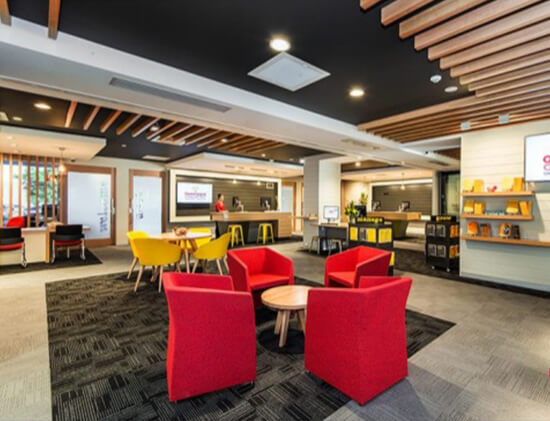 Queensland Country Credit Union
A welcome addition to the expanding Beaudesert Fair centre, the Queensland Country Credit Union's branch has added to the already great mix of shops that serve the Beaudesert community. Conveniently located at the entrance to the only air conditioned shopping centre in Beaudesert, and plenty of easy shade covered parking, Queensland Country will provide an outstanding level of financial services whilst shopping.
Beaudesert Branch Manager Ken Noble said ; "'I am looking forward to welcoming Members to their new Branch in Beaudesert Fair. After a long history in our previous 8 William Street premises, our new branch showcases Queensland Country's new retail design, including lots of open space, bright, colourful furniture and our friendly, welcoming atmosphere."
Queensland Country has been supporting the Beaudesert community since 2005 and via the South East Community Credit Society for many years before that. Our new branch means we can continue to provide the same great service on our range of financial products, including home loans, savings accounts, credit cards, superannuation and personal loans. Come in and talk to our local home loan experts today about our hot opening home loan offer; 3.99% p.a. three year fixed home loan rate ( 5.06%p.a. comparison rate ).'
Queensland Country Credit Union, are proud to offer regional Queenslanders a strong alternative to the big banks. The main difference between Queensland Country Credit Union and the big banks, is that on becoming a member of the Credit Union, you receive a membership share in the business ; making in reality you the member a part owner.
Queensland Country Credit Union are focused on you as a member-owner rather than shareholders. Decisions about how we run our business and price our products in the market for example ; are focused on trying to provide you, our Member-owner, with the best outcomes.
The branch hours of the new Beaudesert Fair Queensland Country Credit Union are Monday to Thursday 9.00 am to 4.30 pm, Friday 9.00 am to 5.00 pm and Saturday 9.00 am to 11.30 am.